Model of Impact
| Patient Centered | Enduring | Community-based | High-quality |
| --- | --- | --- | --- |
| Full-time clinical operations in Guatemala City, Guatemala and Quito, Ecuador | Strengthen local health systems through strategic partnerships | Train and employ local practitioners to provide services | Develop and distribute high-quality technology at low cost |
| Provide care based on need, not cost | Stimulate development by buying locally | Expand Community Based Rehab Program (CBR) to all ROMP countries | Increase provision of microprocessor knees, running feet, adjustable socket technology, and other innovations in the O&P field to better serve our patient's needs. |
| Enable those with disabilities to redefine their human potential | Invest in permanent facilities and long lasting partnerships so ROMP patients will always have access to care. | Involve local staff, supporters, and patients in ROMP's strategic planning | Apply evidence-based standards that offer the best outcomes |
---
Vision: By the 2050 there will be universal access to human mobility for people with amputation in any ROMP country of operation
---
45 Year Road Map to Universal Access

Three strategic imperatives guide the way that we conduct business and craft our culture.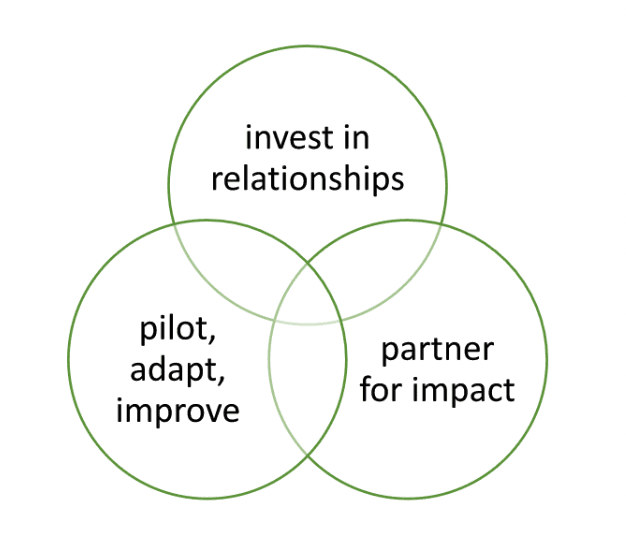 ROMP Strategy for 2022 – 2025
Increase breadth by adding locations and influencing change to systems.

GOAL 1

SUCCESS MEANS    By the end of 2025, ROMP will add 1 site in Guatemala, 1 site in Ecuador and 1 new country of operation for permanent patient care through partnerships, brick-and-mortar clinics, continuous mobile or pop-up clinics, and community-based programs. Expansion will be informed by people with lived experience, prioritized for areas in which there is significant lack of access to prosthetic care, and have a case for solid financial, material, and volunteer support.  Service, given either directly or through partnerships, will be enduring (not parachute care) and will be provided locally with local leadership.

Increase depth by expanding the suite of ROMP services in current locations.

GOAL 2

SUCCESS MEANS    By the end of 2025, ROMP will increase provision of care and a wider range of CBR services to a higher percentage of the total access limited population of people with limb loss in its current countries of operations. The growth goals and CBR service objectives will be determined in conjunction with ROMP International Chapter Leadership. We will adopt internationally recognized outcome measures that define objective measures of patient mobility and will track these outcomes (i.e. increased use of prosthesis, employment, mental health scores, well-being). Furthermore, every ROMP global chapter will be provided the tools, expertise, and resources needed to more fully rehabilitate patients, on the community level in accordance with the objectives set by each chapter. This goal will have been met by increasing internal staff, volunteer, patient participation in programs and financial capacity and reimagining the way work gets done.

Enhance board, staff, and volunteer leadership and management.

GOAL 3

SUCCESS MEANS    Through an internal investment in people and relationships, by the end of 2025 ROMP will attract and retain ample skilled human talent at the staff, volunteer, and board level that aligns with the objectives of the strategic plan. Stakeholders will report that ROMP's culture is reflective of the qualities and values identified through the strategic planning process; staff, board, and volunteers will report they experience the use of effective management methods; close stakeholders will report they do not experience staff as being spread too thin; board members will have a deeper understanding of service realities; and patients, volunteers, board members, and staff will report clarity in roles and responsibilities as well as decision making power throughout the organization. We will consider how ROMP patients and partners are a part of human resources.

Improve internal and external communications.

GOAL 4

SUCCESS MEANS    By the end of 2025, stakeholders report an understanding and awareness aligned with ROMP leadership's internal goals and intentions; impact is clearly defined, demonstrated, measured, and communicated; there is low occurrence of stakeholder complaints regarding responsiveness; and financial support, volunteer support, and partnerships have increased. Stakeholders are reporting that external branding is cohesive across ROMP Global, ROMP Guatemala, and ROMP Ecuador communications. There is internal clarity on expectations, meetings; enhanced interface between operational and executive staff; internal and external communications about behind-the-scenes story, not just inputs and outputs; communications/marketing plan; new version of ROMP website, including Digital Amputee Resource Hub; efficiency of communication channels; effective onboarding process for new staff; clear org chart and regularly updated Internal Communications SOP.

Strengthen practices and systems.

GOAL 5

Success Means    By the end of 2025, we will have implemented the practices of a mature nonprofit for ROMP USA and will provide a road map to maturity that will be shared to the affiliate ROMP international chapters. We will establish the global organizational architecture (i.e. ROMP federation, or another type of model). An operating calendar will be in place which will include a ROMP leadership global summit event. All ROMP chapters will have a multi-year strategic and business plan. Organizational focus - federation set-up, Governance of federation, Legal infrastructure of federation, Financial infrastructure of federation, Inter-chapter relationship dynamics, Strengthening federation leadership, Creating the next strategic plan 2025-2030.

Develop a sustainable economic model consistent with vision and strategy.

GOAL 6

SUCCESS MEANS    By the end of 2025, we will perform an economic analysis of the total cost of care of the ROMP operational model including USA, Guatemala, Ecuador, and any new sites and a full scope of resources committed to the work. We will develop an economic model that includes resource inputs from US and local origins and clearly defined objectives for sustainability. We will write a franchise blueprint document that can inform the creation of ROMP operations in new locations. Using the economic model we can make a business case for why other nonprofits, governments, banks, etc. should invest in mobility services so that ROMP is not the sole funder in this space.