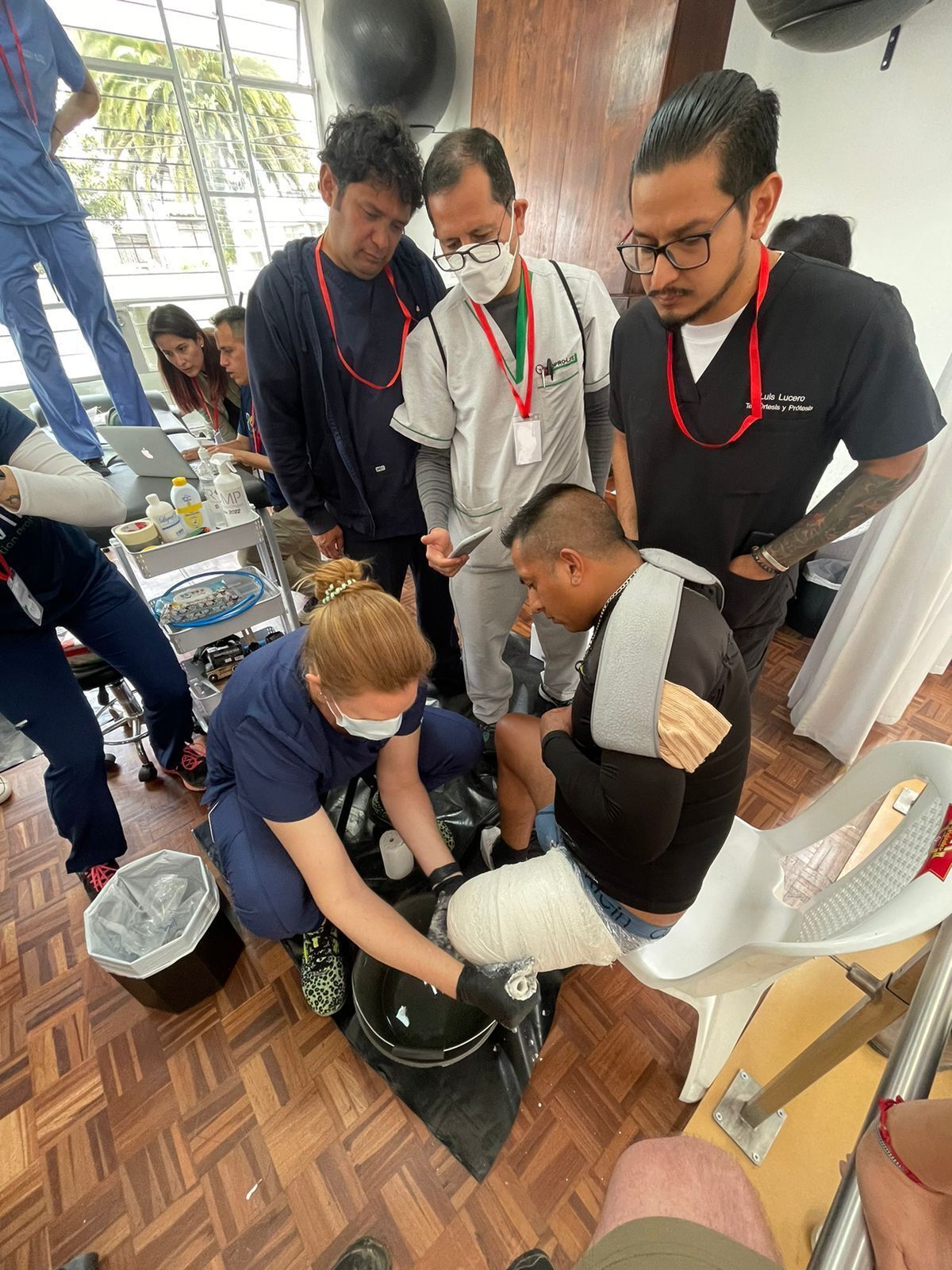 Starting this March, all 2023 ROMP Volunteer Clinical Programs will include 8 CEUs for CPs, CPAs, CPOs, CPOAs, CTPs, and CTPOs!
While only making up 18.5% of the amputee population, roughly 65% of all ROMP patients are classified as transfemoral. In ROMP's new course, "High Volume Trans-Femoral Prosthetic Delivery in Resource-Limited Environments," participating ABC Certified Prosthetists will directly provide prosthetic care to transfemoral amputees. They will learn about ROMP's novel method for managing a high volume of transfemoral amputees. Skills learned from this course will be valuable in treating amputees in Developed and Developing Country contexts.
ROMP's Continuing Educational Unit is offered exclusively to ABC Certified Prosthetists participating in ROMP's 2023 clinical volunteer programs (in Quito, Ecuador, and Guatemala City, Guatemala). This six-day course consists of in-person presentations, assisted clinical patient interactions, hands-on modification & fabrication, lectures, short videos, patient fitting and alignment, group discussion sessions, and a final examination. One dozen plus transfemoral amputee patients will receive treatment during each of these programs. Participants will work alongside multidisciplinary clinicians, ABC Certified Prosthetists, and ROMP staff/volunteers. Participants will receive digital copies of all materials presented, including links to videos shown during lectures.
"High Volume Trans-Femoral Prosthetic Delivery in Resource-Limited Environments" will focus on the following topics:
Evaluation of the transfemoral amputee (how to evaluate a Spanish-speaking patient with the help of an interpreter)
Design of the transfemoral prosthesis in a developing country context (What designs will be most appropriate for most users? Designing for patients from rural vs. urban environments. How to accommodate contractures and weakness caused by a long-term lack of prosthesis use?)
Casting (How to take quick and accurate casts. Key measurements)
Modification (Plaster modification techniques that generate a high degree of success during the first fitting)
Fabrication (How to reduce costs in fabrication? What can speed up the fabrication process? Building the proper alignment into your socket. Copolymer socket fabrication techniques. Low-cost DIY suspension systems.)
Fitting (How to assess the fit of the TF socket quickly & accurately while identifying and troubleshooting socket fit issues.)
Alignment (transfemoral biomechanics and alignment review. Optimizing static and dynamic alignment.)
Gait Training (Accelerated gait training program for transfemoral amputees who do not have access to physical therapy services. Gait Training on variable terrains. Navigating stairs and ramps.)
Ongoing management of the transfemoral amputee in underserved environments.
Additionally, volunteers will participate in daily discussion sessions on key themes relevant to patients, staff, and volunteers. Frequent subject matter includes:
Clinical techniques and case studies
Community-based rehabilitation
Public health system (Ecuador & Guatemala)
Personal experiences with amputation
ROMP advocacy and continued involvement
For more information, please direct your questions to info@rompglobal.org.