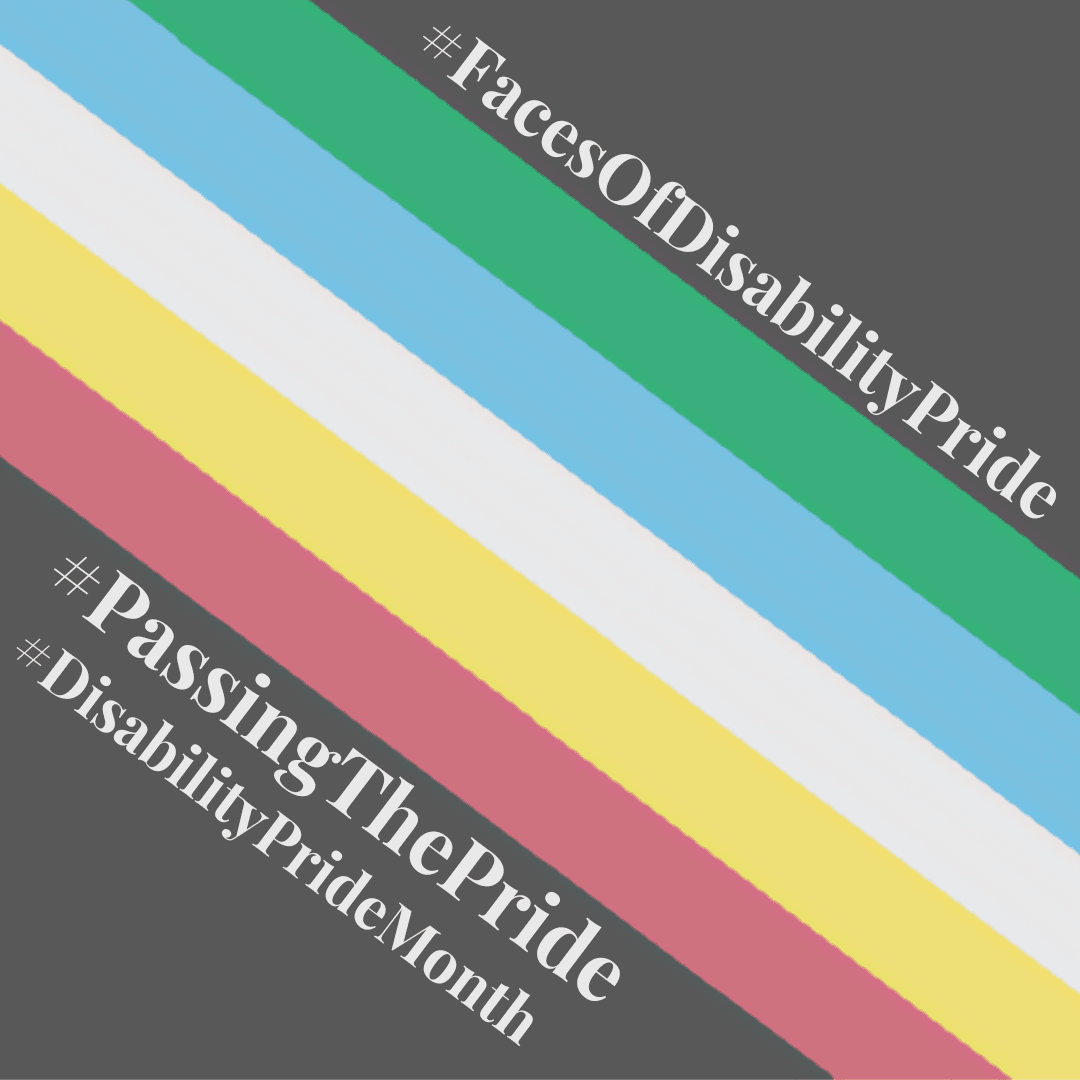 July is Disability Pride Month! This month recognizes the historic signing of the Americans with Disabilities Act (ADA) on July 26, 1990 by President George H.W. Bush. Disability Pride Month is an opportunity to honor the history & achievements of the disability community while also acknowledging the challenges & experiences these individuals face in society.

Why is there a Disability Pride Month? Source: User Way Article
Disability Pride Month embraces and honors people's uniqueness by increasing visibility and awareness of the positive pride people with disabilities feel. Disability Pride Month also helps encourage public conversations about disabilities and their related challenges to help ensure a more inclusive society.
Disability Pride is intersectional, recognizing how society treats people with disabilities, while reflecting on how other marginalized sectors within the community are also treated, including women, people from various ethnic and racial backgrounds, and members of the LGBTQ community. Disability pride month and representation of the community within the disability pride flag, its design, and disability pride month colors advocate for integration that ensures barrier-free accessibility for everyone.
Facts About Disability
"Disability is the only minority group that anyone can join at any time."
Over 1 billion people comprise the global disability community, the most expansive and diverse minority group globally. People with disabilities are represented by all ages, ethnicities, genders, sexual orientations, religions, and socio-economic brackets.

According to the World Health Organization (WHO), around 15% of the world's population identify as disabled, making it one of the world's largest minorities.

Americans with disabilities make up at least 1/3 of all police killings and are 3x more likely to be the victim of a violent crime/sexual assault.

The disability community is among the least likely minority groups to be talked about during election seasons.

Requests for accessibility are often denied.

In the US, people on disability can only have $2000 in their bank account at a time. This is to cover rent, groceries, medications, and doctors appointments. It puts most disabled people below the poverty line. Source:

BlurredByLines

People with disabilities do not have true marriage equality. They often cannot wed because it would cause a significant decrease (or complete termination) of their disability benefits/ healthcare insurances.

People with disabilities are legally allowed to be paid less than minimum wage if they can't perform a job "as well" as their able-bodied counterparts. Many of these requirements include unnecessary weight-lifting for jobs that do not need that specific skill.

As a historically excluded minority, people with disabilities must regularly navigate a world that wasn't built for them. Only buildings built after 1990 or with renovations that exceed 20% of a building's value must comply with the ADA. All other structures are grandfathered in.
Where did Disability Pride Month originate?
1990 in Boston, Massachusetts marked the first Disability Pride Day; it was celebrated when the Americans with Disabilities Act (ADA) was passed into law. The ADA was the world's first comprehensive declaration of equality for people with disabilities. Since then, Disability Pride has been recognized around the world in countries such as: the UK, Norway, and South Korea.

In 2015, the mayor of New York City declared July Disability Pride Month.
Disability Pride Flag:
As of October 2021, the Disability Pride flag has changed to the new design below, with straight lines and desaturated colors. The Disability Pride Flag was a collaborative design effort by Ann Magill and the disabled community to refine its visual elements.
The meaning behind the Disability Pride flag:
The Black Field: A color of mourning and rage; for those who are victims of Ableist violence, and also rebellion and protest
The Five Colors: The variety of needs and experiences (Invisible and undiagnosed disabilities, physical disabilities, neurodivergence, psychiatric disabilities, sensory disabilities)
The Parallel Stripes: Solidarity within the Disability Community and all its differences
The Diagonal Band: "Cutting across" barriers that separate people with disabilities; creativity and light cutting through the darkness.
What is Ableism?
Disability Pride Month celebrates humanity, the community of people with disabilities, and their contributions to society. At its core, ableism is a systematic means to dehumanize people with disabilities, creating stigmas that members of the community are inferior or less capable than anyone else. Sadly, ableism often crosses over various forms of oppression including sexism, racism, homophobia and more. Using words and language that pass judgment on people with disabilities is a significant part of ableism.
Being aware of how we speak verbally and with our body language is a critical means to fight ableism and advocate for inclusion of all people with disabilities.
While there is movement towards creating a more inclusive society for people with disabilities and impairments, recognizing the fight for advocacy and DEI (Diversity, Equity, and Inclusion), some companies still pass judgment and may not recruit individuals from the community.
How can you support Disability Pride Month?
Disability Pride Month focuses on amplifying the voices of people with disabilities and the global disability community. Because marginalized groups historically have less seats at the table and are often silenced, allies of the disability community can help by elevating the voices of those with disabilities by leveraging their own platforms and educating others. Whether you have a disability or not, this is a beautiful opportunity to help create a more inclusive world. Below are a variety of ways you can help:
Talk about it with your friends, colleagues, and family. Ask them if they know about the month and educate them on why Disability Pride is important.

Ask brands what they're doing to support the month and the Disabled community. We need healthy Disabled representation.

Unpack your own unconscious biases. It all starts from within.

Uplift, support and amplify disabled content creators and organizations dedicated to making the world more inclusive/accessible.

Download apps like "Be My Eyes" to help the blind.

Ensure sidewalks are clear.

Join a Community Access group on social media.

Watch documentaries and films to educate yourself such as Crip Camp and Rising Phoenix.

Educate yourself on recent legislation regarding disability such as the SSI Restoration Act and So Kids Can Move.
Join our campaign #FacesOfDisabilityPride and share what #DisabilityPride means to you -
Select a photo (preferably a faceshot) and remove the background. Edit to black and white and place over the disability pride flag.

Share your story, why you are proud to be in the disability community and/or an ally for the disability community. What brings you joy, what are you proud of, etc.

Tag @rompglobal #FacesOfDisabilityPride #DisabilityPrideMonth so we can share to our social media stories

Tag 3 people who inspire you or who you are proud of and what to give a shout out. Ask them to share their story!
For more information on how to join ROMP for Disability Pride Month, please visit our page: https://rompglobal.org/campaigns-events/disability-pride-month.html