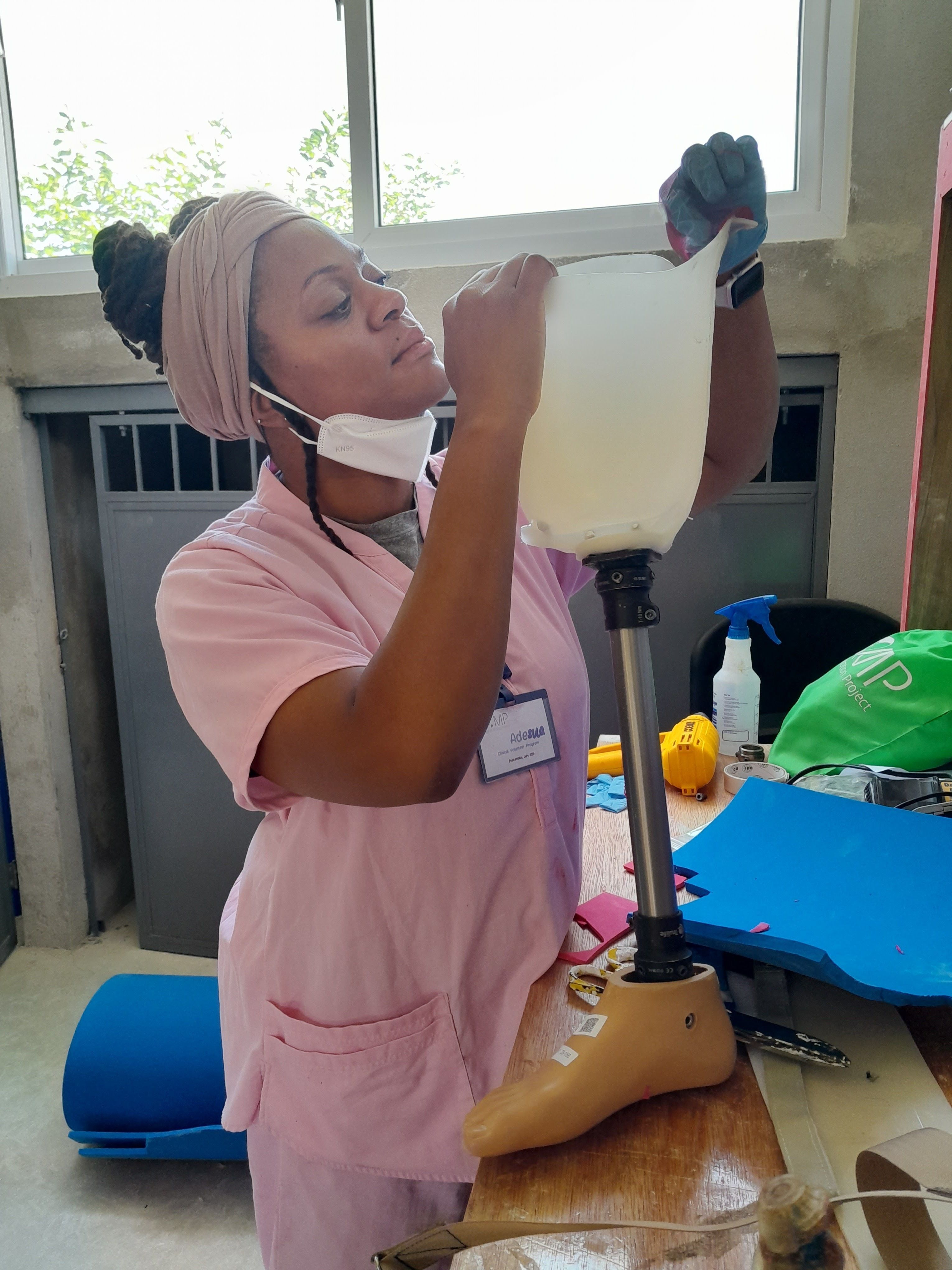 For the past few years, Click Medical has partnered with ROMP to award a scholarship that sends one female pursuing a masters degree in Orthotics and Prosthetics on a ROMP Volunteer Clinical Program. This once-in-a-Iifetime opportunity is a hands-on, week-long session working with some of the best prosthetists in Latin America. Our 2023 scholarship winner, Adesua Ojeifoh, shared her experiences from the the July Guatemala program. Check it out below!
---
The new ROMP clinic in Guatemala City is beautiful and serene and truly set the tone for an inspiring week.
Days one and two were patient casting days. Patients traveled long and far across Guatemala to receive their first prosthesis, many of them arriving to the clinic long before we did. Most of the patients were one year or more post-operation. You could feel the excitement and anticipation in the atmosphere, from both the patients as well as the ROMP volunteers. We began right away, measuring our patients, explaining the process, and casting them for their first test socket ever! My first patient was a father by the name of Luis with a bilateral transfemoral amputation. His amputation occurred in the years prior due to a motor vehicle accident and was further exacerbated from complications with diabetes. Luis' desire to return to work so that he may support his family really solidified the need to create him the most functional prosthesis for his amputation level. Accompanied by his wife and two children, the room was filled with love and excitement for the patriarch of the family to regain his mobility.
Days two and three were filled with many hours of modification and pulling test sockets, but the day for check socket fittings had finally arrived! Luis' check socket appointment was the first time he had stood in over a year. This moment was very emotional for us all. He expressed how eager he was to walk and return home with his new pair of legs the next day. As the team finalized his prosthesis and got him standing upright, he was so excited to start walking when he realized he had forgotten to bring a pair of shoes! The ROMP staff were so excited for him to walk that someone even took off their own shoes to allow him to take his first steps!
As we worked long hours over the next few days to complete the final sockets and prepare the prostheses for delivery, we had the opportunity to hear many of our patients' stories. One of my most memorable patients was Jestel, a 26-year-old Guatemalan father who was accompanied by his young daughter Azul and his wife. Jestel underwent a transfemoral amputation after being thrown from his motorcycle and having his limb crushed by a bus. Jestel's faith and humility stood out to me most. He was driven, and as soon as he stepped into his new prosthesis, he took off walking. He stated his strong belief in God kept him motivated during the dark times while he grieved the loss of his limb. Jestel's story resonated with me so strongly that I boiled over with excitement when I saw him take his first steps!
Volcanoes, Pepián, and prosthesis! Oh, my! Did I mention we even modified plaster molds in the middle of a rainstorm!? There is no limit to what you will experience volunteering with the Range of Motion Project. Learning from your fellow volunteers, experiencing the beautiful views, and having your humility restored to you, while you restore mobility to your patients are some of the things that I will never forget about this experience. This trip combined my love of nature and my passion for prosthetics and orthotics and helped to reaffirm my desire to open my own clinic. I would like to extend my deepest gratitude to the ROMP Guatemala team for their wonderful treatment of us while we visited their beautiful country. I would also like to extend a very special thank you to the Click Medical team for finding me to be of those deserving of such an auspicious award. Thank you!